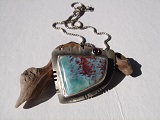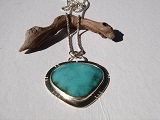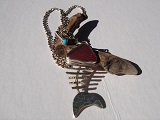 My jewelry is all about texture and colors. I design and create silver jewelry with sea glass, beach pebbles, semi- precious stones and enamels. I make each piece by hand one at a time.
I like to make jewelry that is one of a kind and sea glass is perfect for that. The free forms and organic look and feel of the glass inspires me. I have a collection of sea glass from all over the world. I donít alter the shapes or colors in any way. Many of the silver settings for the sea glass are designed to allow light to pass through and illuminate it.
Enameling allows me to create my own colors by fusing powdered glass to metal. There are many styles of enameling all using different techniques. I enjoy experimenting with them. Sometimes I control the colors and sometimes I wait to be surprised. Picking and choosing the perfect piece of sea glass to accent the enamel is something I look forward to.